For additional questions regarding our process and services Genesis Restoration
Get an Appointment Today!
Expert Basement Mold Removal Services in Riverside and San Bernardino
Keep your basement mold free with our expert mold remediation
Musty odors are typically the first sign of a moisture problem in the basement. While mold is common in most finished or unfinished basements, foundation leaks, flooding, and plumbing leaks can all put you at greater risk of a basement mold problem.
If there is a musty smell or visible signs of mold in your basement, especially after water damage, contact Genesis Restoration immediately to request a thorough mold inspection and to learn about the cost of mold remediation in San Bernardino, Ontario, Fontana and surrounding areas.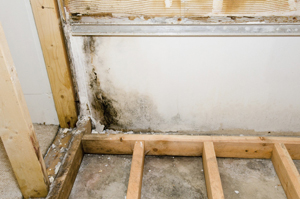 Mold can grow behind the walls in basements and cause significant damage.
Call us at (951) 509-0333 or click below to schedule your inspection.
Problems with mold in the basement
When water enters your basement, regardless of how it got in, there's a potential for mold to grow. If your basement is finished, any organic materials like wood framing, sheetrock, insulation, and carpeting create a breeding ground for mold. Because air from the basement often escapes into the upper living spaces of the home, basement mold can contribute to health problems like respiratory illnesses and worsen allergy and asthma symptoms. The only way to keep mold issues in the basement under control is to keep moisture levels low and prevent water intrusion with proper waterproofing and ventilation.
Remove mold in your basement and keep it gone
When you contact us for basement mold cleanup and remediation, our trained and certified technicians will conduct a thorough inspection to determine the source of the water or moisture issues in your basement. We then remove all mold-damaged materials, dry out the basement, and thoroughly clean all surfaces. Once the basement has been dried and cleaned, it is recommended that a waterproofing system be installed – this may include a french drain, a sump pump, and a dehumidifier. These solutions will help prevent future mold issues in your basement.
Let us solve your basement mold problem - contact us today!
Mold in the basement is a very common problem, but it's not one you have to live with. Genesis Restoration is your local expert for all types of mold remediation. We use only the most advanced inspection and cleaning equipment and take all necessary precautions to ensure safe mold removal and keep the mold from spreading during remediation. 
If you've recently experienced water damage in your basement or you have noticed signs of a mold problem, contact us now request a professional mold inspection and free inspection for mold removal and remediation. We proudly serve Corona, Norco, Ontario, Fontana, Hemet, Yucaipa, Beaumont and many surrounding towns and cities.