For additional questions regarding our process and services Genesis Restoration
Get an Appointment Today!
Mold Removal Experts Serving Riverside and San Bernardino
Local experts for 24/7 mold inspections, remediation & removal
Genesis Restoration is your local expert when it comes to disaster restoration, especially for mold removal.
Mold damage can be difficult to remove permanently, especially without a certified technician doing the work. Without a professional it may look like the job was done but the mold will grow back in a few months.
The consequences of improper mold removal include further damage to your home's structure, health issues from spore releases, and a lot of extra money you need to spend to remove it a second time.
Mold poses a serious health threat, especially for those with asthma and allergies. This is because of the release of spores. A singe square inch of mold can contain 10 million mold spores and it only takes 3-5 spores to cause an allergic reaction.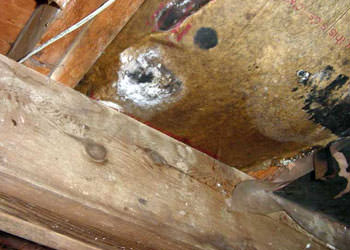 To have mold completely removed safely it requires experienced professionals.
Our Mold Removal Specialists are properly trained to identify all existing mold and remove it so it does not return.
We're here to help solve your mold problem from start to finish
We offer 24-hour emergency service, as well as Free Inspections for mold removal and water damage restoration. Our certified, professional services are available throughout our California service area, including Riverside, San Bernardino, Ontario and surrounding areas of California.
Things you should know about mold & mold remediation
To Sum It Up: As Steven R. Silicato, writer for Buildings Magazine states, "Choosing the right remediation contractor could be the single most important decision an owner or manager makes — one that could mean the difference between a successful cleanup or a negative outcome."
We have expert solutions to prevent & remove mold after a fire or flood
At Genesis Restoration we are certified and our professional mold removal team can handle the mold issue in the California area, including Corona, Norco, Ontario and surrounding areas such as Fontana, Pomona, San Dimas, Rialto, Upland, Laverne, Clairmont.
You don't need to wait to deal with the issue as our 24-hour emergency services are available all year long. We will be there within a few hours of your call to completely dry out your home and prevent any further mold growth.
We dedicate our selves to customer service and education as we adhere to the nation standards and best practices in indoor humidity control and mold removal.
Our experts are standing by to help you! For a free inspection for mold removal or remediation, call us at (951) 509-0333 or send us an e-mail today!

Mold spores & health issues
People at high risk from mold spore exposure: