For additional questions regarding our process and services Genesis Restoration
Get an Appointment Today!
Mold Testing and Inspection Services from Riverside & San Bernardino's Disaster Restoration Experts
Avoid property damage and health hazards with expert mold inspection, testing and prevention services
Does your home have a mold problem? It's smart to be concerned about mold, because it can cause a number of health problems, while also damaging building materials, home furnishings and possessions.
Signs that mold may be present include: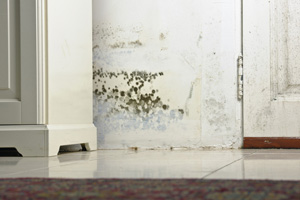 Don't let mold take hold. Some materials (like the paper-faced wallboard shown here) are especially attractive to mold when they remain damp for prolonged periods of time.
If you can see or smell mold in your home, or if your home was recently damaged by water, such as a burst pipe or flooding, contact the disaster restoration experts at Genesis Restoration to schedule an appointment for mold testing today!
Fast, thorough mold testing in California
We serve San Bernardino, Ontario, Norco and areas throughout Southern California. Reach us by phone at (951) 509-0333 or schedule an appointment online!
We can answer all your questions about mold
It's often possible to see and smell mold in your home. But an awareness of mold still leaves you with many questions, such as:
Providing complete mold testing and disaster repair services
If you're worried about mold in your home, you've come to the right place. Genesis Restoration has the expertise and resources to solve mold problems from start to finish. Our trained technicians are ready to provide the following mold services:
Contact Genesis Restoration today to schedule a free mold inspection. Don't lose sleep worrying about mold in your home. Give us a call or send us an email to set up an appointment for mold testing. Let's begin the end of your mold problems.
Our disaster restoration services are available in Brawley, Heber, Corona, Norco, East Vale, Fontana, Rancho Cucamonga, Upland, Pomona, San Dimas and throughout the surrounding area.